1. What is a veterinary dermatologist?
A board-certified veterinary dermatologist is a veterinarian who has undergone an additional, multi-year training program in dermatology and then passed a rigorous examination to become a board-certified Diplomate of either the American or European Colleges of Veterinary Dermatology. In Dr. Ursula's specific case, she underwent a 3-year-training program in investigative and clinical dermatology at North Carolina State University before becoming board-certified with both, the American and European Colleges of Veterinary Dermatology. 
2. How can a veterinary dermatologist help my pet?
At AVD we can help break the vicious cycle of recurrent bacterial or yeast infections of the skin, ears or nails. Additionally, we treat the toughest of skin allergies, auto-immune skin diseases, diseases that lead to hair loss and nail problems, as well as ear diseases. 
3. My pet is suffering from skin and ear diseases. What tests do you have available to help my pet?
Healing starts with the right diagnosis.  At AVD we offer a wide variety of diagnostic tests, from cytology and culture to skin allergy testing, hormonal tests, skin biopsies and vide-otoscopy. However, while we have all these tests at our disposal, we do not believe in running tests just for the sake of running tests. Instead, for every patient, we develop an individualized diagnostic and treatment plan that leads us to the right diagnosis and starts us on the path of recovery.
Dr. Ursula Oberkirchner
Dr. Ursula, was born and raised in the beautiful city of Salzburg, Austria. She grew up spending time with her family and friends and her dog and horse in the beautiful fields and mountains of Austria. As a 6-year-old, Dr. Ursula already knew what she wanted to become: a veterinarian, which would allow her to combine her love for animals with her passion for taking care of them and helping them. To this day, Dr. Ursula still lives her childhood dream and she treats all of her patients as if they were her own pets, with love, compassion, and determination to provide them with the best medical care possible.
After graduating from the University of Veterinary Medicine in Vienna, Austria, she completed a two-year doctoral thesis in dermatology at that same university. To fulfill her dream of becoming a veterinary dermatologist, she then moved to the United States. She completed a 3-year-residency program in investigative and clinical dermatology at North Carolina State University. At NCSU, Dr. Ursula was allowed to learn from and work with some of the best dermatologists in the world. She became boarded with the American and European Colleges of Veterinary Dermatology and then worked as Assistant Professor in Dermatology at the University of Florida. Later, she moved to MA where she worked as the dermatologist at MSPCA Angell-West. Dr. Ursula then took an educational position with an animal health company. But her desire to be close to her patients pulled her back into private practice and to South Florida.
She subsequently worked as the sole dermatologist in a specialty hospital in Palm Beach Gardens and with time, her desire to build a practice that fully represented her values became stronger and eventually lead to the opening of her own practice "Advanced Veterinary Dermatology". Dr. Ursula's clinic is centered around providing standard of care medicine to her patients while never forgetting what really matters, the patient, and the family who is taking care of their furry family member. Only as a team can we succeed. Dr. Ursula welcomes you to Team Advanced Veterinary Dermatology. To us, winning means giving your best for every patient and supporting their families with love and compassion.
Erin, Lead Nurse and Practice Manager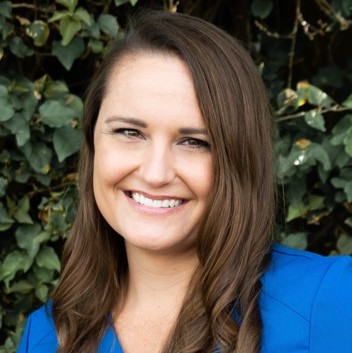 Erin is a Florida native. She was born and raised in Palm Beach Gardens. She has more than 20 years of experience in the veterinary field. She has worked as an emergency and neurology technician, lead technician, and as hospital manager. In 2018, she found her true calling by working in dermatology with Dr. Ursula.  Erin's passion for dermatology, combined with her in-depth knowledge and immense experience makes her a unique and invaluable asset to the team of Advanced Veterinary Dermatology. Erin continues her journey in higher education through Keiser University.  
She is a proud mom of two young, beautiful daughters. Her daughters keep her very busy bouncing between softball fields and jumping arenas. She is also mom to a four-legged, trouble-making Border Collie named "Captain Flint".